The Starmark range is our exclusive selection of pet education products.
As world leader in pet education for over two decades, our award-winning training and behavior tools are developed by experts and performance tested by thousands of dogs at the Starmark Animal Behavior Center. As the facilitator of world-class education and training programs for dogs and professional dog trainers, we understand how dogs think, play, and learn—this hands-on knowledge makes our products unique. Our goal is simple: keeping pets happy in their homes by improving relationships with their owners.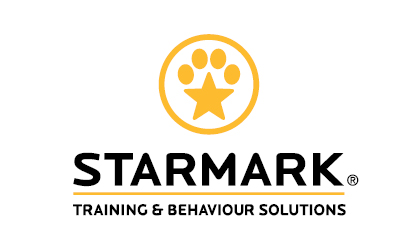 Starmark Training Clicker with Strap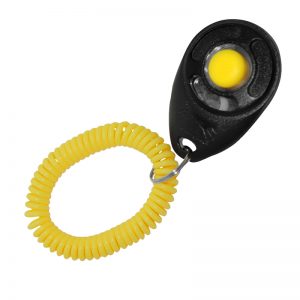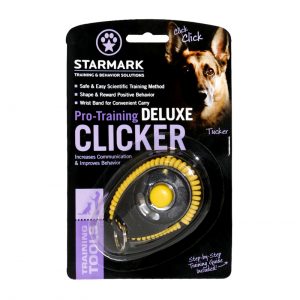 | | |
| --- | --- |
| E9915 | CLICKER FOR TRAINING W/STRAP |

The Starmark Pro-Training Clicker has an ergonomic design that is comfortable to hold in your hand with an easy to press raised button that helps prevent missed clicks.
Made with a rust free stainless steel clicker element, the clicker can also be attached to a keychain or lanyard.
Using the StarMark Clicker is an easy and fun way to reward positive dog behaviours. It is based on the scientific principles of classical conditioning and operant conditioning.
Essentially the goal of the Clicker is to get the dog to associate the sound of the click with something he enjoys, i.e. treats. Using a Clicker, the dog learns the exact moment that he or she has does something correct. By teaching the pet to repeat behaviours that lead to meaningful rewards, the pet is able to learn new exercises faster.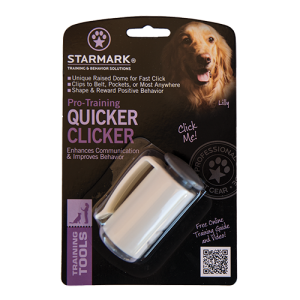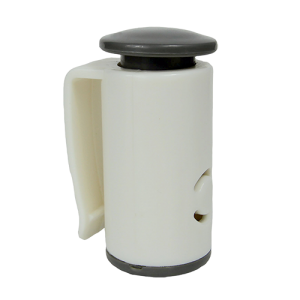 | | |
| --- | --- |
| E9958 | QUICKER CLICKER FOR TRAINING |

Shape and reward positive behaviour!
Comfortable and Responsive
Raised dome for fast click and cylindrical shape for comfort and ease of use
Proven Training Principles
With the scientific method used at our Training Academy, you too can repeat positive behaviors that lead to rewards
Starmark Everlasting Chicken Treats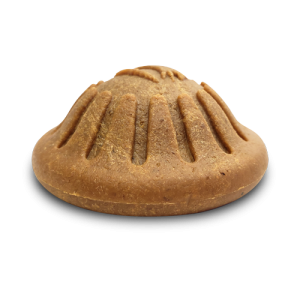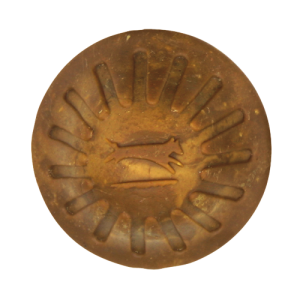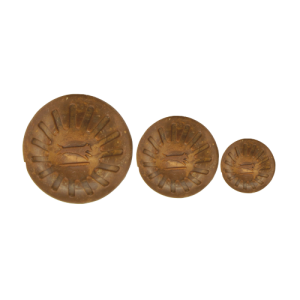 | | |
| --- | --- |
| E9932 | EVERLASTING CHICKEN TREAT SMALL |
| E9931 | EVERLASTING CHICKEN TREAT MEDIUM |
| E9930 | EVERLASTING CHICKEN TREAT LARGE |

Packed with flavour and EXTREMELY appealing to dogs!
Just like everlasting gobstoppers for children, it can take a lot of licking to get through an Everlasting Treat! Specially formulated with ingredients that are natural and digestible, dogs cannot resist these snacks.
Everlasting Treats have also been designed with raised dental ridges to promote better dental hygiene for dogs. Dogs enjoy a safe, healthy snack while having their teeth cleaned.
Everlasting Treats 'trap' food inside the Everlasting Bento Ball, Fire Plug or Treat Ball. This means pets have to lick and nibble their way through the treat to get to the food inside, keeping them happy and occupied for even longer. Everlasting Treats can also be enjoyed just on their own as a tasty snack.
Starmark
Interactive Treats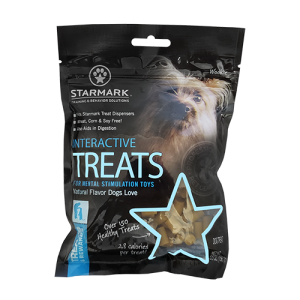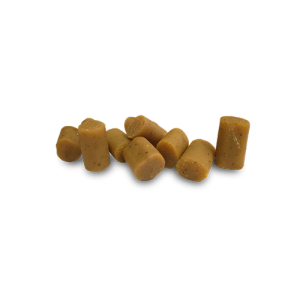 | | |
| --- | --- |
| E9980 | STARMARK INTERACTIVE TREATS |

Treats for mental stimulation
Starmark Interactive Dog Treats work with all Starmark Treat Dispensers, along with a variety of other treat dispensing toys available today.
The interactive treats are designed to help dogs stay active whilst enjoying their treats for a longer period of time. The wheat, corn and soy free herbal chicken flavour also aids in digestion.
Starmark Swing & Fling Chew Ball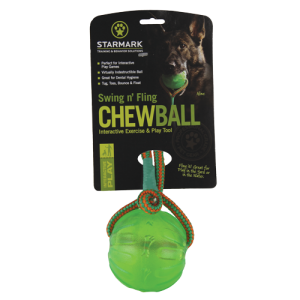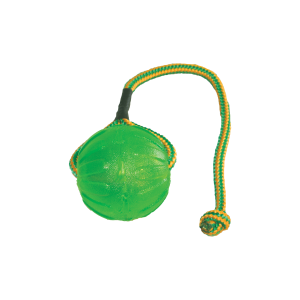 | | |
| --- | --- |
| E9967 | SWING & FLING CHEW BALL M-L |

Tenacious chew resistance meets fetching fun!
You have seen the Swing 'n Fling Fetch Ball, now swing into fun with the new Swing 'n Fling Chew Ball®. This addition to the Starmark range is designed to fly far, ensuring longer lasting interactivity.
A Ball that Does It All
Great to tug, shake, chew and toss. Even floats in water.
Virtually Indestructible
Stronger than rubber! Great for powerful chewers. Free of latex, vinyl, and phthalates.
Designed for Flying Far
Fun for you to throw and easy for your dog to retrieve.
Safe and Healthy
Safer than a tennis ball and great for dental hygiene.
Starmark Swing & Fling Fetch Ball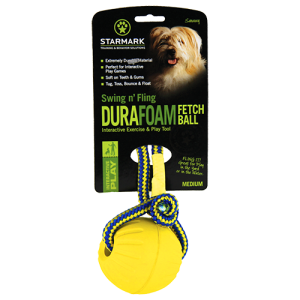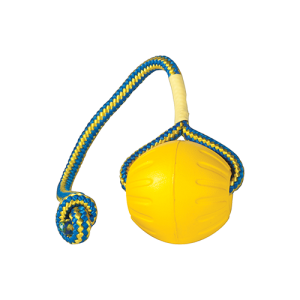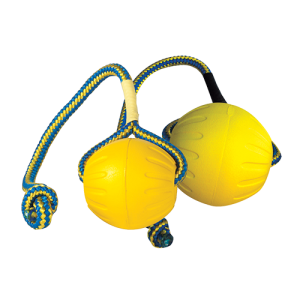 | | |
| --- | --- |
| E9964 | SWING & FLING FETCH BALL  – MEDIUM |
| E9965 | SWING & FLING FETCH BALL – LARGE |

TUG, Shake, CHEW and TOSS! Plus it floats!
Virtually indestructible ball designed for flying far and perfect for retrieval or tug of war games.
Designed for interactive play it is made from Starmarks patented DuraFoam material making it more resistant to chewing while being soft on the dogs mouth. With no cover to chew off its much safer than a tennis ball. The Swing n' Fling DuraFoam Fetch ball flies far is fun for you to throw and is easy for your dog to retrieve.
Starmark Fantastic
Durafoam Ball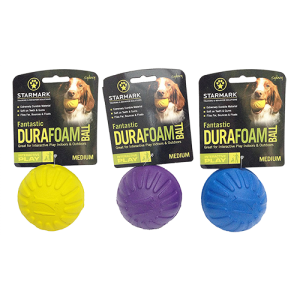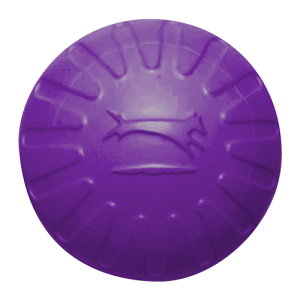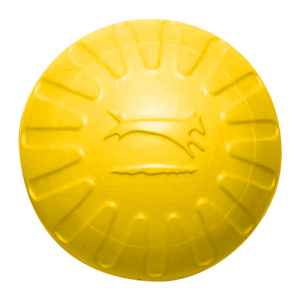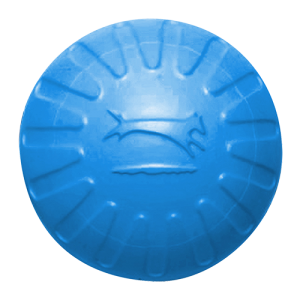 | | |
| --- | --- |
| E9963 | DURAFOAM BALL – MEDIUM |
| E9962 | DURAFOAM BALL – LARGE |

The bouncier the ball, the better!
Gone are the days of finding shredded ball coverings scattered all over the backyard.
The Fantastic DuraFoam Ball is a very tough ball with great bounce. Made of solid patented foam that is soft on a dog's mouths, but extremely durable, the Fantastic DuraFoam Ball has no covering that can be chewed off, like a tennis ball. 
The Fantastic DuraFoam Ball also floats in water for fun at the pool, lake or beach. Because they are made of soft foam, they are easier for the dog to grab and are less likely to bounce off the dog's teeth.
The three bright colours – purple, yellow and blue – make the Fantastic DuraFoam Balls easier for both the pet and the pet parent to spot.
Starmark Durafoam
Easy Glider Disc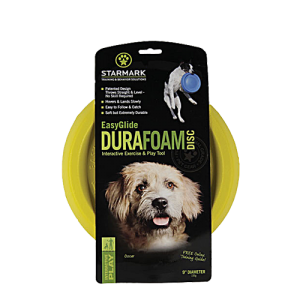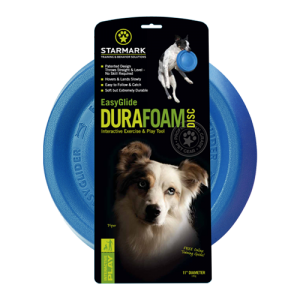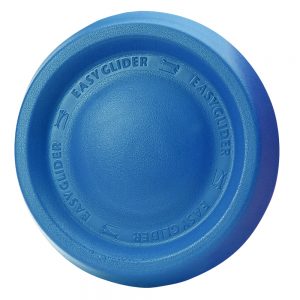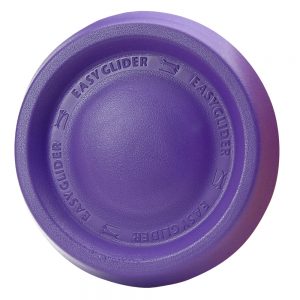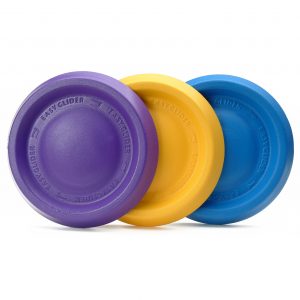 | | |
| --- | --- |
| E9960 | EASY GLIDER DURAFOAM DISC 23CM |
| E9961 | EASY GLIDER DURAFOAM DISC 28CM |

Whether your dog is a frisbee champion or a backyard beginner, the EasyGlide DuraFoam Disc is an ideal boredom buster for your active pooch!
Unlike other flying discs, the EasyGlide DuraFoam Disc is made of highly durable patented soft foam. This ensures that EasyGlides are strong and tear resistant while being gentle on the dog's mouth.
If left out in the sun, the EasyGlide DuraFoam Disc does not fade, splinter or break, which can often be the case with plastic flying discs.
EasyGlide DuraFoam Discs are easy to throw straight and level, perfect for going the distance even if you have never thrown a flying disc before. The unique patented aerodynamic design allows the EasyGlide DuraFoam Disc to fly smoothly and relatively slowly through the air without taking sharp arcs or turns. This gives the dog a better chance to follow and catch. EasyGlide DuraFoam Discs also float in water so that the dog can use the disc in the pool, lake, or beach for even more fun.
How many times have you struggled to give your dog a drink after they have run themselves to a heaving, panting standstill and you do not have a bowl? Cupping your hands under a tap to catch the water so they can have a drink just means you end up wearing 90% of the water and they are still thirsty. With the EasyGlide DuraFoam Disc, all you need is the water because it can also be used as a water or food bowl – clever!
Available in medium or large sizes, the EasyGlides come in a variety of colours – purple, yellow and blue – to help you spot them in the yard, park or beach.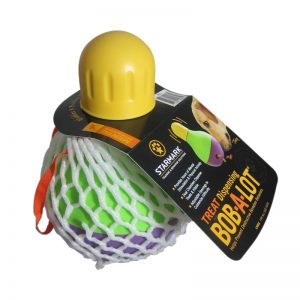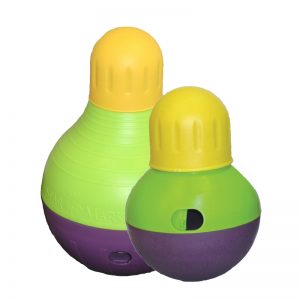 | | |
| --- | --- |
| E9937 | BOB-A-LOT SMALL |
| E9936 | BOB-A-LOT LARGE |

The Bob-A-Lot is a very unique self-motivating toy that dispenses treats as dogs move it around. Once filled with treats or food, dogs must manipulate it with their nose or paws to extract the goodies.
The toy has two adjustable openings so that pet parents can adjust the difficulty of the challenge. This is far superior to competing toys where the opening is not adjustable and dogs can easily remove the food.
When the toy is set with a higher degree of difficulty the treats inside the Bob-a-Lot will last longer, keeping pets interested for longer. The top opening is large enough to enable easy filling of the Bob-a-lot with treats or dry dog food.
The weighted base causes the toy to wobble, tumble and roll as the pet plays with it. Bob-a-lots are relatively indestructible, made from tough and durable non-toxic material. With two sizes available, Bob-a–lot Large and Bob-a-lot Mini, these self-motivating toys are ideal for any sized pet.
Ditch the doggie bowl and bring out this Boredom Buster, as the Bob-a-lot Large can hold up three cups of dry dog food.
Starmark
Everlasting Bento Ball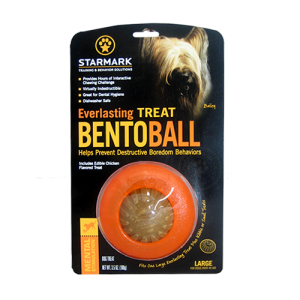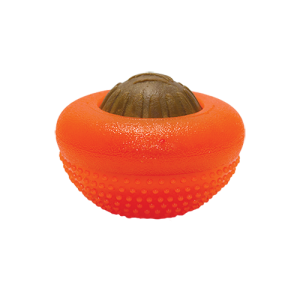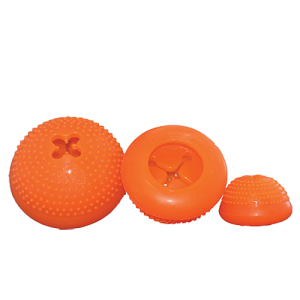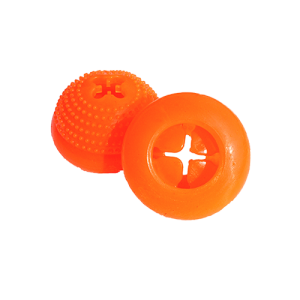 | | |
| --- | --- |
| E9929 | EVERLASTING BENTO BALL SMALL |
| E9928 | EVERLASTING BENTO BALL MEDIUM |
| E9927 | EVERLASTING BENTO BALL LARGE |

It's the half ball, that's TWICE the FUN!
The Everlasting Bento Ball can be filled with food, treats, or any snack your dog enjoys and then capped with one Everlasting Treat.
Everlasting Treats can be inserted upside down or into the centre cavity for more challenging play.
Dental dimples on the outside of the ball help keep teeth clean and stimulate their gums when chewed. The Bento Ball is absolutely non-toxic for pets to chew on and is completely free of latex, vinyl, and phthalates.
The Bento Ball is available in three sizes; Small, Medium and Large for dogs over 25kg.
Starmark
Everlasting Treat Ball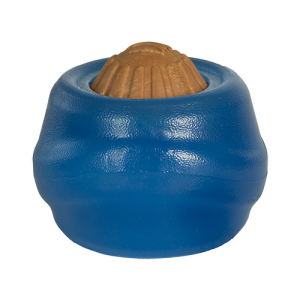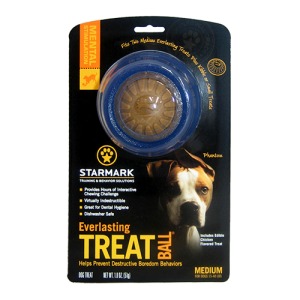 | | |
| --- | --- |
| E9902 | EVERLASTING TREAT BALL SMALL |
| E9901 | EVERLASTING TREAT BALL MEDIUM |
| E9900 | EVERLASTING TREAT BALL LARGE |

Great for keeping boredom at bay!
The Everlasting Treat Ball will keep any dog happily occupied. The unique design causes the ball to wobble and roll erratically, keeping on their toes.
You can fill the Everlasting Treat Ball with small treats or food that dogs have to figure out how to remove from the ball before they can enjoy. To make things more challenging and keep dogs busy for longer, plug both ends with Everlasting Treats or Interlocking Treats after you fill them.
The Everlasting Treat Ball is very durable, with silicone that is added to the rubber compound giving it extra strength and durability.
Sold with a complimentary Everlasting Treat, the Treat Ball is great for all dogs and it is available in three sizes; Small, Medium and Large.
Starmark Everlasting
Treat Wheeler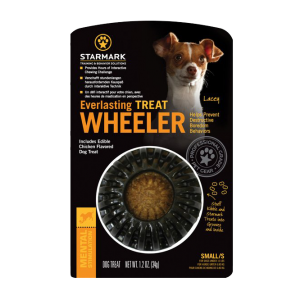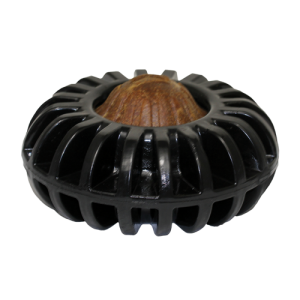 | | |
| --- | --- |
| E9979 | EVERLASTING TREAT WHEELER SMALL |
| E9978 | EVERLASTING TREAT WHEELER MEDIUM |
| E9977 | EVERLASTING TREAT WHEELER LARGE |

Keeping the strong chewers occupied!
The Everlasting Treat Wheeler can be capped with one or two everlasting treats depending on the level you need to keep your dog occupied.
Use a variety of treats and kibble with the Wheeler, including our unique everlasting treat with dental ridges or the original domed everlasting treat, you can even add smaller treats inside the grooves for extra challenge.
Stronger than rubber, free of latex vinyl and pthlates, you can be sure it's good for the powerful chewers out there!
Hours of challenging play are provided by Wheeler which encourages play and helps to reduce anxiety and boredom behaviours.
Starmark Treat Dispensing Chew Ball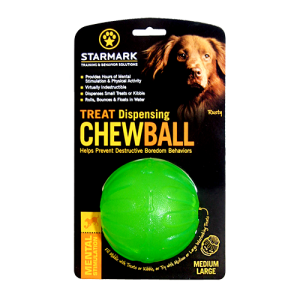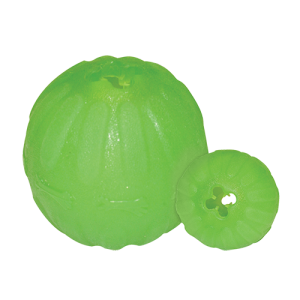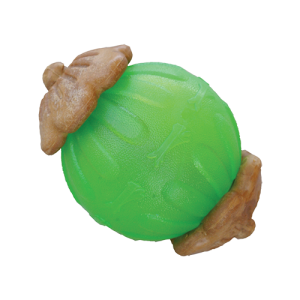 | | |
| --- | --- |
| E9948 | TREAT DISPENSING CHEW BALL M-L |
| E9949 | TREAT DISPENSING CHEW BALL MED |
| E9947 | TREAT DISPENSING CHEW BALL LARGE |

Gone are the days of scoffing a meal out of a bowl in one minute!
The Treat Dispensing Chew Ball is the most durable Everlasting toy, with fewer ridges for dogs to get their teeth around. The Chew Ball works by flexing with the dog's bite, instead of trying to resist the force, to ensure that the toy is gentle on their teeth while they chew.
Put your dog's meal into the Chew Ball so that they have to figure out how to get the food out before they can eat it. Cap the ends with Interlocking Treats to provide an even tougher chewing challenge, or use Interlocking Treats to connect the Fun Ball to other Everlasting toys.
The Chew Ball is available in three sizes; Medium size for smaller dogs, Large for dogs over 25kg and Medium Large for those pets in-between.
Starmark Treat Dispensing Pickle Pocket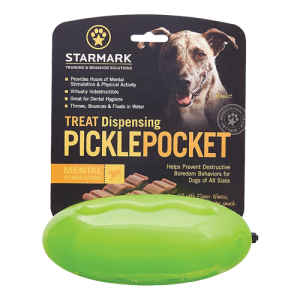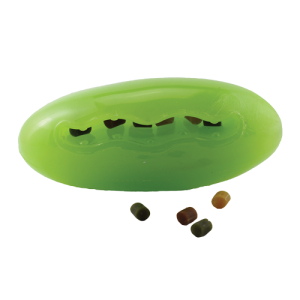 | | |
| --- | --- |
| E9968 | TREAT DISPENSING PICKLE POCKET |

Ideal for hours of challenging play!
The Pickle Pocket is the provides pets with a dense, treat dispensing Boredom Buster that holds treats or kibble to keep pets working for rewards.
It is ideal for tenacious chewers as it provides hours of challenging play as the pet attempts to remove the treats from the wavy grooves. For an extra challenge, the Pickle Pocket's groovy pockets can be filled with wet snacks or food. This switches the chomp to a lick in order to devour all the tasty rewards inside.
Available in one size to suit most dogs.
Starmark Treat Dispensing Tetraflex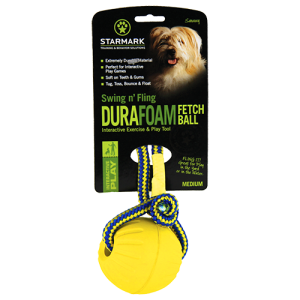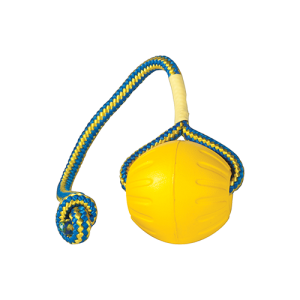 | | |
| --- | --- |
| E9953 | TREAT DISPENSING TETRAFLEX MED |

Turn meal time into play time!
Replace your dog's food bowl with a treat dispensing Tetraflex instead.
The tetraflex is ideal for holding any of your pet's preferred kibble or treats within its hollow centre. The collection of grooves on the outside of the ball also work as fun pockets to hold a bit of your pet's most loved spread, cheese or wet food. With its unique, dog tested, material, the Tetraflex withstands tough chewers whilst staying gentle on teeth and gums.
Available in three sizes, there is a Tetraflex treat dispenser to suit any size or breed of dog. With a bright yellow colour that is impossible to miss, the Tetraflex is sure to be a backyard favourite for your pet.
Size:
Medium – 100mm diameter